WALKING TOUR: PALM GROVE OF ELCHE AND WELCOME RECEPTION
Wednesday, October 3, 2012 – 20:00
The walking tour through the historic center of Elche and Palm will start from the Visitor Center, located at the Municipal Park in the heart of palm.
From this point, we will go first to the Palacio de Altamira, a former military fortress that houses the Museum of Archaeology and History of Elche (MAHE).
Facing it, across the street, stands the magnificent Basilica of Santa Maria, inside which is held annually El Misteri d'Elx, declared a World Heritage.
Following Carrer Ample we will go to the Passeig de les Eres de Santa Llúcia and we meet with the Convento de Nuestra Señora de la Merced (s. XIV). In the basement of the building  you can see a recently restored Moorish baths, which let know the customs of the Muslim community during their long settlement in the city.
Another element that may give an idea of ​​the importance and magnitude of the walled enclosure surrounding Elche, is the Tower of Calahorra. A construction of Arabic origin, which defended the most important entrance of the city.
From here we will drive to the Jardin Huerto del Cura (Priest's Orchard), crossing the Plaza de Santa Isabel. We will walk around the main streets stoping at La Glorieta where you can learn the history of the discovery of the Dama de Elche in front of the image at this square.
Once in the Jardin Huerto del Cura the guide will introduce attendees to the basics of the Palm Grove of Elche, declared World Heritage by UNESCO. We can check the skill of the traditional rise of the "palmereros" to one palm.
Here the tour ends with a welcome reception cocktail.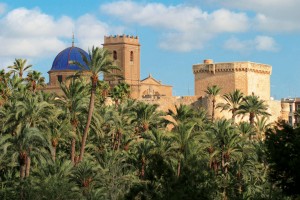 GALA DINNER – HOTEL HUERTO DEL CURA
Thursday, October 4, 2012 – 21:30
On Thursday night there will be the gala dinner at the Hotel Huerto del Cura, awarded Best Hotel 2011, annual prize Spanish Confederation of Editors, Writers and Journalists of Economy and Tourism, located in a beautiful natural setting, in front of the famous Garden with same name, one of the most prestigious European gardens.
During the Gala Dinner  "Jesus Lorés" Award will be given to the best paper submitted to the Conference and selected by the Program Committee. Moreover, this year three papers will receive "Honorable Mention" Award, also selected by the Program Committee.